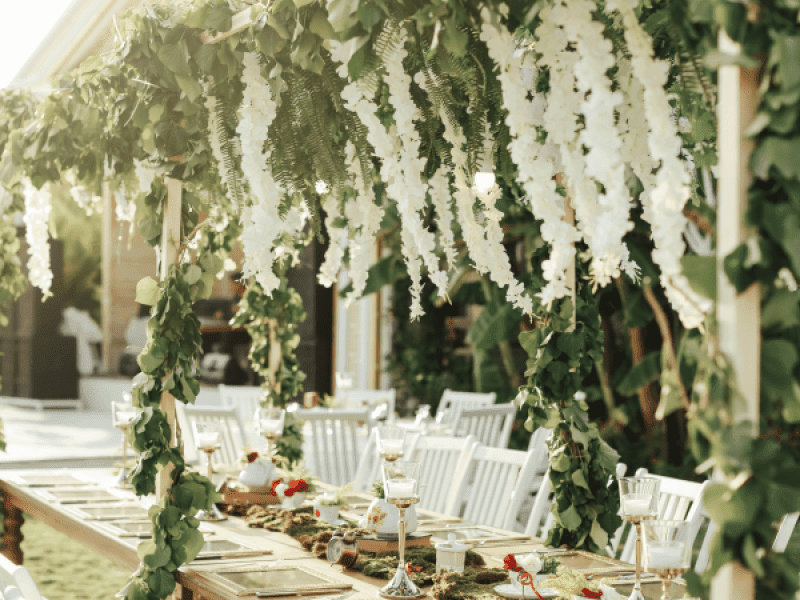 "We Don't Do It For The Tea and Bikki's"…. Wedding Pre-Dinner Music?
This week's blog post will be exploring the world of Pre-Dinner Music at Weddings. For
those of you on the fence about whether you would like music during your drinks reception,
this might help you make a more informed decision.
As always we don't write these blog posts purely out of the goodness of our hearts, we will give you an idea of what we offer in
the way of Pre-Dinner music. Shameless self-promotion I know, but even musicians have
bills to pay! See you on the other-side of this post.
Forgetting Something?
So you have booked your venue for your big day, you even have your band sorted and they
offer a convenient D.J package too. Sorted. Now it's roughly 6 months away from your
wedding and while attending Janine, from your offices summer wedding, you spot out of
the corner of your eye that they have booked a small jazz trio to perform.
While everyone is filling up on day old scones and coffee that's strong enough to tar roads, the smooth jazz
sends you into a sort of trance, you quickly snap out of it and think, F**K, I haven't booked
any Pre-Dinner music!
The phone quickly comes out and you frantically start looking for
suggestions. Stop me if any of this sounds familiar. It's not a big deal, Pre-Dinner music is
generally sorted last so you can even leave till a couple weeks before if you like to live life
on the edge.
Our advised time-table for booking wedding music is as follows, this is just our take on it.
Don't shoot the messenger if you have done the opposite way.
Order of Importance for Booking Wedding Music
Book your band, bands can have weddings booked almost two years in advance so as
soon as you have a venue or even before, I would advise contacting your preferred
band. This is so as to avoid the disappointment of your dream band being booked.
Book your D.J, no harm to ask your band if they have a D.J option. 4Till6 works
closely with a D.J company called Digital D.J's, this allows us to offer the best D.J's in
the business to our wedding couples at a slightly discounted rate. Other bands may
have one member of the band who will act as D.J after the band have finished, this
will generally be cheaper than having a separate D.J. If neither of these options are
possible do your own research and find a D.J which is suitable for you.
Ceremony Music, not everyone will want to book ceremony music, for some people
this can be hugely important, other, not so much. If it's high on your priority list and
you know who you want, get them booked. Like Bands, Ceremony performers can
have dates booked 18 months to two years in advance.
Pre-Dinner, now similar to the Band and D.J packages, quite often the musicians you
book for your ceremony will do Ceremony and Drinks Reception packages, this can
save a lot of hassle as it's one less supplier and one less envelop of cash to carry
around on the day. Also it should workout cheaper to have the same person or duo
perform both parts of the day. We do quite a few of these packages, they're lovely
gigs and it allows us to do some work during the day which is awesome.
Should I Bother?
Now in case you're still wondering why you should bother with Pre-Dinner music, here's
some insight into the pro's and con's. What we find is that at Drinks Receptions, the music
serves to provide some background noise. People will occasionally listen in when they hear
a song they like but quite often your guests will sit and have a chat, not paying too much
attention .
This is the norm, and is to be expected. Irish people in particular love nothing
more than to talk at a wedding. Another thing to consider is the time of year you're having
your wedding, with summer weddings your guests will tend to wander, especially if the
venue has a nice grounds, or if they are trying to avoid awkward small talk.
Winter weddings can also have an effect, with poor weather all of your guests will be congregated in the one
room and this can make the volume in the room almost deafening, In this case your guests
may struggle to hear the musicians.
I must emphasise that there is very little the musicians can do to fight this, if they turn up their P.A equipment so the people at the back of the
room can hear over you aunt Rose's cackling, it might cause serious hearing damage to
those who are sat directly in front of the speakers.
The examples above are extreme ends of the spectrum, generally you will have some of the older guest who will sit and listen to the music for the duration and you will even find some of the very young guests having a boogie, cue the phones being taken out for videos of toddlers dancing in suits!
What We Do For Drinks Receptions
So down to the business end of this post, here's what we offer for Drinks Receptions/Pre-
Dinner Music. We operate under the name 'The Lovely Strangers' for this sort of gig and this
act consists of Katie singing and Gavin accompanying on acoustic guitar.
We take bookings for Pre-Dinner separately but also as part of a full day package with 'Still At The Music'.
In these packages we will cover the whole day from Ceremony to pre-dinner and then the
evening band after dinner, we will also organise a D.J for our couple.
These days are very
long and tiring but hugely rewarding as we get to be a part of our couples big day from start
to finish.
Setlist
We will always try to personalise our music choices to suit a couples musical taste. To start
with, once they have confirmed the booking with a deposit, we will send them our master
list of songs which features between 80 and 100 songs. We get through about 35 in 2 hours
so they can pick out the songs they like out of that list or, what is even more important is to
pick out the sings they 100% do not want to hear. We also take requests, we will usually
learn 3-5 songs for a couple.
If there are more requests than this we will charge a little bit more as we need to spend the time learning songs. In one instance a bride requested a
number of throwback 90's songs along the lines of 'Freed From Desire' and 'Rhythm Is a
Dancer', not your standard choices for a drinks reception with your elderly relatives, but, we
did them and it was great craic, the bride who we hope is reading this post as her wedding
was one of our favourites to date, really appreciated the effort we put into learning her
requests. This sort of thing gives us all the warm tingly feelings!
How Much Does it Cost?
So what do we get out of these days? As the title suggests, we don't do it for the snacks.
These jobs pay quite well, our general pricing will be between 300 and 400 euro for a Drinks
reception and for this we will play for up to two hours.
To put that into perspective if we are doing a similar gig in a pub we will charge between 220 and 280 euro depending on
location. These are the general rates for what we do, there will always be some variances
depending on travel expenses and if we need to prepare any music specifically for a gig.
So the jobs pay quite well, not extremely well but certainly a fair rate for the work and not extortion when compared to some other wedding suppliers. It's also great for us to be able to do gigs during the day as if we are finished a drinks reception around 5 or 6 we can head of to another job that evening, if we are not doing the evening band as well.
Also when compared to ceremonies or evening band gig's, there's far less prep involved, 9 times out of 10 couples are happy for us to choose the songs as they trust our judgement. Also we don't have to haul much equipment into the venue for the Pre-Dinner, if only the same was true for the afters, my back hurts just thinking about that load in!
Summary
So that leaves the downside to these gigs. There's very little in the way of a downside, we
don't get too much back off the crowd while we're playing, the odd clap here and there but
that's the job, background noise, nothing more, nothing less. This can be a bit draining, for
other gigs you get energy to perform from interaction with the crowd. So yes if you are new
to this sort of gig then it can be discouraging, you feel like you didn't have a good gig when
In reality you did great or more importantly you did exactly what the job required.
As usual this is just our take on Pre-Dinner Music, on the greater scheme of things what do
we know? About anything? Well whatever we do know we are happy to share, feel free to
drop us a line if we can shed some light on any issues raised in our posts. stillatthemusic@gmail.com
or find us on Facebook. Till next time…!
Check out thespruce.com for some toast ideas.
Other Blog Posts From Us!
Can A Google Search Save You Money On Your Irish Wedding Band?
Tips From an Irish Wedding Band on Picking First Dance Songs